What is Iowa Automotive Recyclers (IAR)?
Iowa Automotive Recyclers is a non-profit trade association of businesses involved in the recovery and sale of green recycled parts from automobiles and those who support the automotive salvage and dismantling industry in Iowa.
Iowa Automotive Recyclers Summer Outing 2015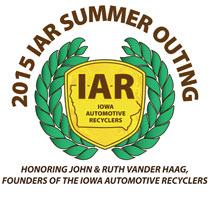 May 29-30, 2015
Prairie Meadows Conference Center
Des Moines, Iowa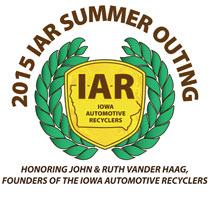 Download → 2015 Conference Registration Brochure
Friday, May 29

6:30pm - 9:30pm

Trade Show & Dinner Buffet

Saturday, May 30

8:00am - 2:00pm

Registration Open

8:30am - 8:55am

Hybrid Vehicle Lithium Battery New Shipping Rule (Tentative)

9:00am - 9:30am

NMVTIS Reporting by Jay Svendsen, Auto Data Direct

9:35am - 9:55am

Electronic Lien Checking (Interactive Workshop) by Clay Winterboer, IIADA

10:05am - 10:45am

Smart Shipping by Steve Haas, SAV Transportation

11:00am - 1:00pm

Awards Luncheon - Vander Haag Lifetime Achievement Award

1:00pm - 3:00pm

Yard Tour at Vander Haag's Inc. Des Moines facility

1:00pm - 3:00pm

I-CARE Workshop with Sue Schauls




Storm Water Pollution Prevention Plan Review
Storm Water Sampling Training
Safety Program
Forklift Certification
Airbag Certification HazMat Shipping
SPCC Preparation
Parts Washing

3:00pm - 6:00pm

Trade Show & Dinner Buffet

6:00pm - 9:30pm

Scholarship & PAC Auction and Entertainment
Please bring an auction item!
Download → Vendor Registration 2015

Download → IAR Member Application Form
Download → IAR Associate Member Application & Benefits



Office Phone & Fax: 319-233-7970
EMAIL

Phone & Fax: 319-233-7970
Iowa Automotive Recyclers
2214 Regal Avenue
Waterloo, Iowa 50702

IAR Scholarship Information
EMAIL

Sue's cell: 319-290-7843 E-Mail Sue

© 2015 Iowa Auto Recyclers(IAR)